NEXI hosted 11th RCG CEO Meeting in Tokyo
January 20, 2020
Nippon Export and Investment Insurance
Nippon Export and Investment Insurance (NEXI, Chairman and CEO: Atsuo Kuroda) held the 11th annual CEO meeting of the Regional Cooperation Group (RCG), comprising 12 export credit agencies (ECAs) in the Asia Pacific region, on January 14th – 16th in Tokyo.
RCG CEO Meeting has been held since 2008, where the first meeting was organized in Tokyo on the initiative of the Berne Union President at that time Mr. Hidehiro Konno, who was also the chairman of NEXI, to cope with the Great Financial Crisis. The world recently has faced a variety of risks such as the situation in the Middle East which has become even more tense early this year, trade conflicts, and more frequent natural disasters with devastating consequences. The regular high-level exchanges of views in the previous meetings have established a cooperative relationship between members, which results in sharing information in the events of emergencies and ensuring capacity for high-risk projects through the conclusion of reinsurance contracts.
In the second memorable meeting in Japan, the following joint statement was adopted.
Joint statement of the 11th RCG CEO meeting
Having a theme on ECA cooperation in the third countries, we confirmed our roles and cooperation in developing new markets in Africa and other regions. Additionally, in response to the trends where the global energy market shifts to Asia, we confirmed our commitment to working together in order to achieve the Goal 7 β€œEnsure access to affordable, reliable, sustainable and modern energy for all," which is one of the Sustainable Development Goals (SDGs) announced by the United Nations.
NEXI continues to encourage cooperation between ECAs to effectively support trade and investment in Asia and projects in third countries involving Japanese companies.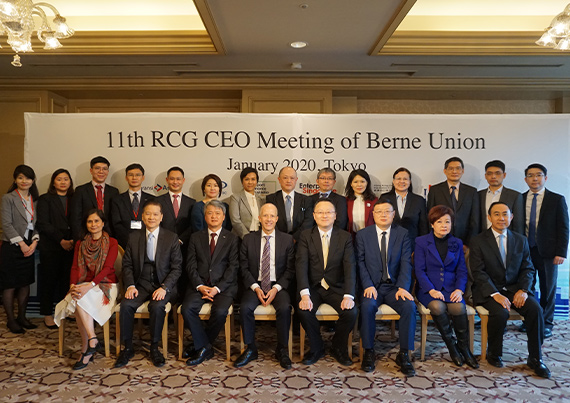 Contact: Corporate Planning and International Relations Group, Corporate Planning and Policy
Office: +81-(0)3-3512-7665
Back